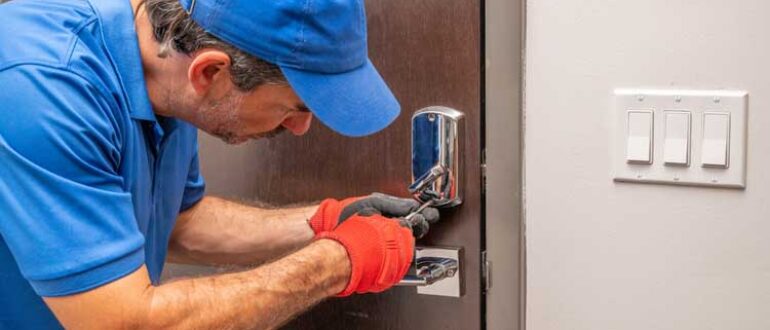 When you want to prevent crimes and unauthorized entry from occurring on your commercial property, the best way to do it is through maintaining control of your commercial door locks.
When you have highly secure and controlled commercial doors, you can monitor who's utilizing them and potential vulnerabilities in your security system. Hire a trusted commercial locksmith to help you secure your commercial door.
Ensure Proper Installation
Despite having invested in the best commercial door and accompanying lock hardware, all your money could go down the drain when you attempt to install it yourself.
Improper installation done by you or someone else can not only make your door less secure, but it can also cause problems later on when not resolved immediately. Get your door lock inspected by locksmith services to ensure it's been properly installed.
Regular Maintenance
Without proper and frequent maintenance that can include lubrication for your door hinges and locks, inspection for any damage, and so on, your commercial door can unexpectedly break down.
Get your commercial door maintained, especially as it's in regular use by many people, to prevent an unexpected breakdown during critical hours. If your commercial door lock stops working, you may have to dial for an emergency locksmith immediately.
Using Good-Quality Locks
Regardless of how sturdy and durable your commercial door is, its security can still be compromised if you're using a finicky lock. You can consult an affordable locksmith that will advise you on the best type of lock to get for your door.
Depending on how secure you want your commercial space to be, you can opt for a heavy-grade security lock or an average but durable lock.
Enabling Camera Security Systems
If you're worried about who's coming and going through your commercial door, the best way to monitor the area around your commercial door is by installing a security camera system.
You can enable the system to be connected to a Cloud service or through WIFI so you can access and monitor the door at all times from anywhere.
Surround the Area with Good Lighting
Having good-quality lights that maintain full visibility around your commercial door can help you better control the flow of traffic and make people feel safe accessing it too.
You can get overhead lighting or motion sensor lights installed on both sides of the door for easier access.
Use An Access Control System
Having an access control system is ideal when you want to tightly control who can come and go through your commercial door. Only registered employees or those with a temporary access card will be able to enter through the door.
You can find many locksmith services in your area that can help you install an access control system for your commercial space.
Need Help Keeping commercial door locks Secure? Our Technicians Can Help
When you need to control your commercial door and manage the entrances and exits of many people throughout the day, getting a secure lock system is a necessity. Entrust your lock requirements to our technicians at Coral Springs Locksmith in South Florida for quality and efficient services. Call 954-715-2223 to book a service now!